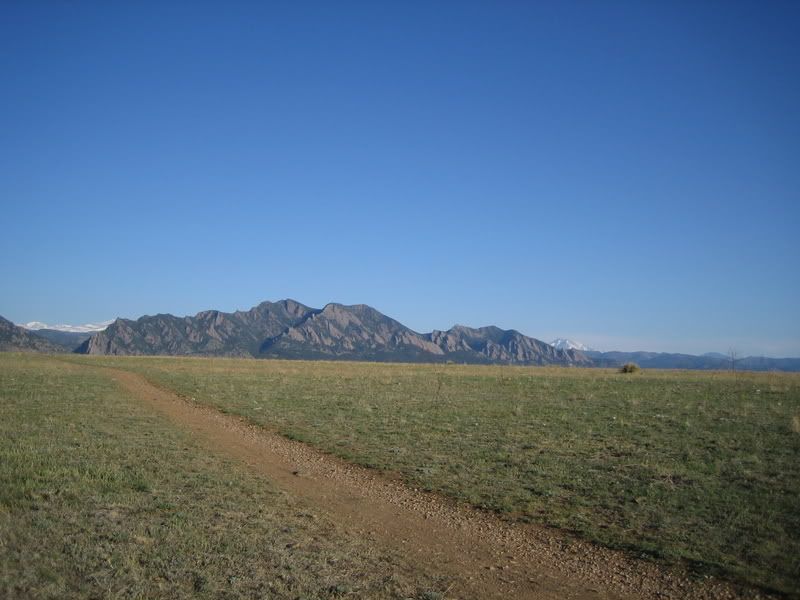 In the past couple of weeks, I've started to commute to work on my bike again. (GPX)
It's funny...I took a job closer to home a couple of years ago and because I was always running errands I never really had a good opportunity to commute by bike. There were always trips to the hardware store, the post office, FedEx. etc. etc. that had to be done and since I was the only one in the office all of those responsibilities fell on me. They laid me off just before christmas so I went back to the company I was working with before and asked for my job back. Luckily they welcomed me back and now the commute is further (into Boulder).
I used to commute to Boulder quite a bit when I worked for them before. I took the bike paths, bike lanes, and shoulder of the road to get home. I changed my hardtail into a full-time commuter bike complete with slicks, then got an old used road bike. I enjoyed the riding but I've always hated riding on the road...It's the risk of getting hit by a car that bothers me. I had some good climbs along the way and would average about 15miles each way. I started having problems with my knee from always trying to beat my last trip time. I just had such a hard time not pushing myself to the limit everyday, every ride.
Since then, Boulder County Open Space has built a new trail (High Plains Trail) that parallels Hwy 128. I figured that I'd try using it on my commute and bypass a lot of the road that I was riding before. What a change! Although it's added about 20 minutes to my commute, the change has made a big improvement to how I feel about the commute. Now I've only got to spend 30 minutes on the road. But I've still got to watch how much I ride so that I can avoid that dreaded overuse injury. Thankfully, the weather has been helping me. The last two days were wonderful weather, the next two rainy, and then sunny again on Friday. Gotta love it when the weather cooperates.