Bard Creek Trail is EPIC!!!
After last weekend's adventure into a known area (Williams Fork Loop), I was having a hard time deciding what trail to ride during the Labor Day weekend. I had initially thought of going up to Spearfish, SD to ride the Dakota 5-0 but the cost of gas and the time spent in the car for a single day of riding just didn't seem like a worthy tradeoff. With the good days to spend above treeline waning, Monarch Crest came to mind but I really didn't want to drive that far to find out everyone else in Colorado had the same idea. I started looking closer to home for some unknown trail that meandered around 12,000 ft and could be turned into a loop. There's something about loops that make them so much more appealing to me than a simple out-n-back. Maybe it's the fact that you've got to commit to a loop at some point in the ride…I guess that would be the 'point of no return', huh?
I had talked with a co-worker about the Bard Creek Trail that connects Herman Gulch (along I-70 near Loveland Pass) with Empire, CO (on Hwy 40 going to Berthoud Pass). He is a trail runner and always had good things to say about this trail. His only hesitation is that you never really get away from the noise of traffic down below on I-70. The advantage of this trail is how close it is to home, however, and that out weighed the disadvantages. So I started looking at it on the Forest Service maps and came up with a loop out of Georgetown. Initially, I wanted to complete the loop counter-clockwise which would have me climbing up the jeep road and descending down pavement…I'm glad I decided to switch it around and do the climb up the pavement because the descent down the rocky jeep road was arguably the best part of the ride.
Last week, I put out an open invitation to ride Williams Fork Loop and ended up with a very nice, very capable, and intelligent riding partner. I'd been burned by putting out open invitations before so I was a bit hesitant this last time. But with last week's ride going so well, I thought I'd try it again for the Bard Creek Loop…I got one taker.
We met at the vistor's center in Georgetown and headed up the road to Bakerville. We chatted as we climbed and I found out that he had never ridden above treeline before. If I had known that ahead of time, we probably would've ridden a different trail—likely Monarch Crest or Kenosha Pass—something that I would've known to be more rideable and enjoyable for a first ride above treeline. But we were committed. We continued to chat up the Bakerville-Loveland Trail and as I spotted the Herman Gulch I-70 exit through the trees, I thought we had gone too far and missed our turn so we bushwacked through the willows and walked through the creek.
We still didn't find the trail on the other side so we climbed up to the shoulder of the interstate and rode down the entrance ramp to the exit. At the exit, I realized that we hadn't gone far enough and if we would've ridden up the trail a few hundred yards, we would've had a bridge to cross on…Oh well, next time. There were already a good number of cars in the parking lot at the trailhead but I knew that once we got off the Herman Gulch trail, we'd see little to no people. We started the steep climb up Watrous Gulch.
As soon as the trail mellowed out, we crossed a small creek and found our turn off.
It didn't take long until the trail had a good deal of exposure. I guess I've somewhat calloused myself towards exposed trails more than I thought over the years. I forget how intimidating trails that have 'no-fall-zones' can be to the uninitiated. Although my riding partner this weekend was new to this, he did a good job with learning what he felt comfortable riding and what not to try.
The trail traverses a couple of 13,000ft peaks along treeline, descending, climbing, and wrapping into little hidden drainages. There are a number of cool bristlecone pines along the route.
And there are times when the trail just completely disappears…only cairns to follow…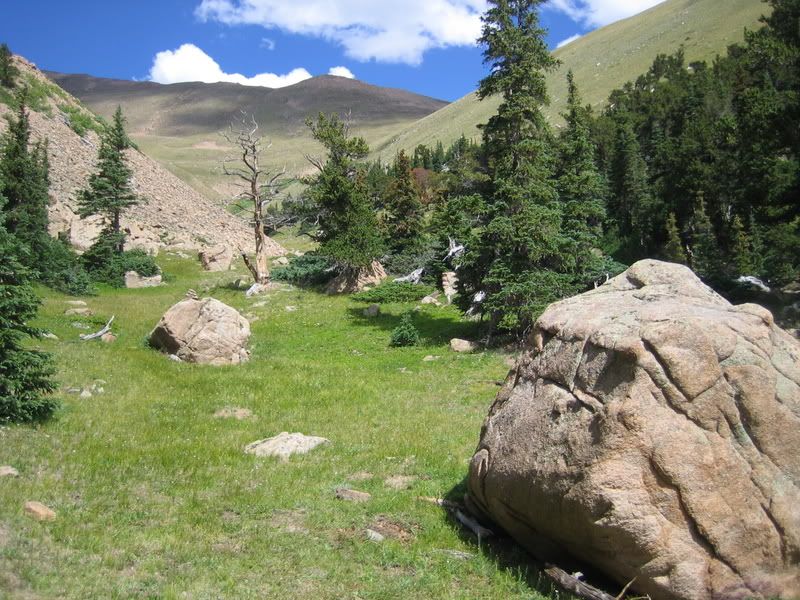 We continued to traverse across the mountain to a good vantage point that had a large cairn on it. There was quite a bit of hike-a-bike involved and route finding. I stopped and waited for Shane at the cairn and took a panorama of the vista.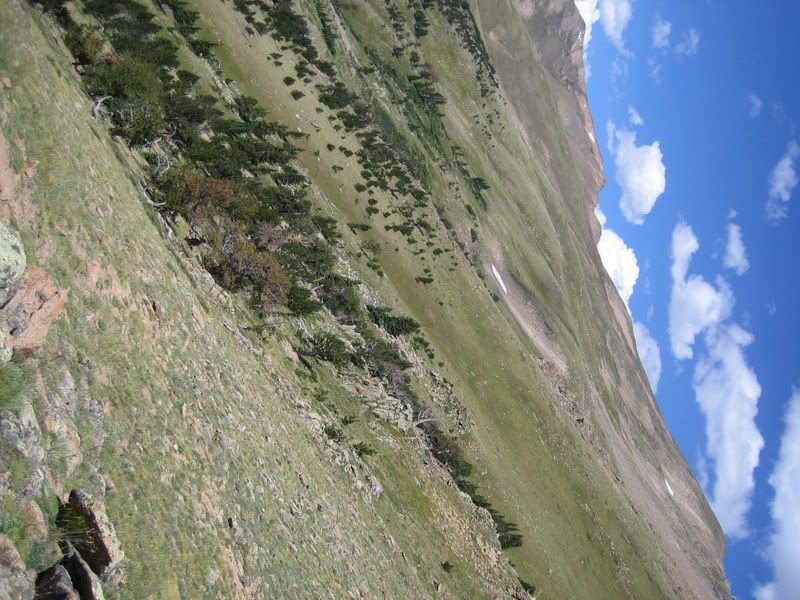 Then we continued on into this hidden basin. The saddle at the far end of the basin was the top of the downhill segment of our ride.
We encountered our first person for the day near the top of the saddle. He looked like a hunter out scouting. We continued on and Shane refilled his camelback at a cascading creek. I found out at the same time that my iodine tablets had become powder after living in my first aid kit for over a year. We treated his water by estimating the dosage, but I don't think he drank from it the rest of the voyage.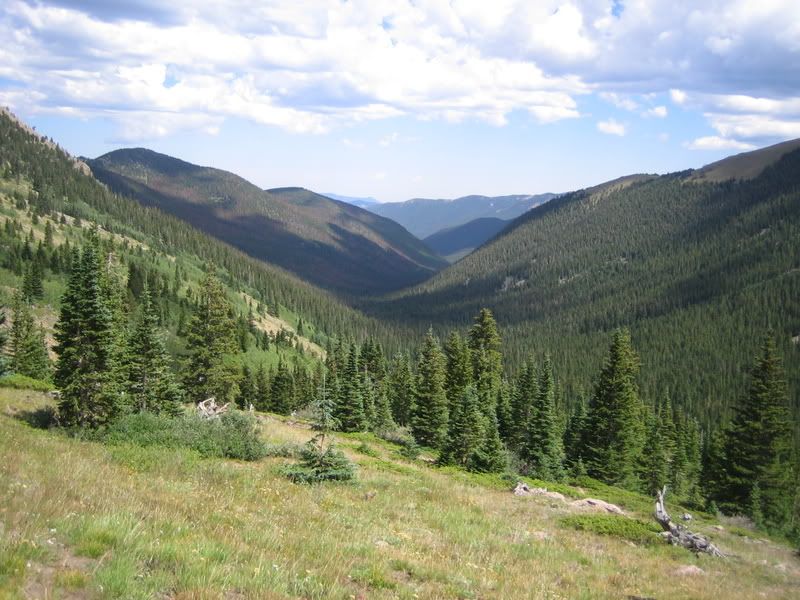 The trail continued to get better and better as we descended. There were still a few obstacles that had to be crossed by carrying the bike, however.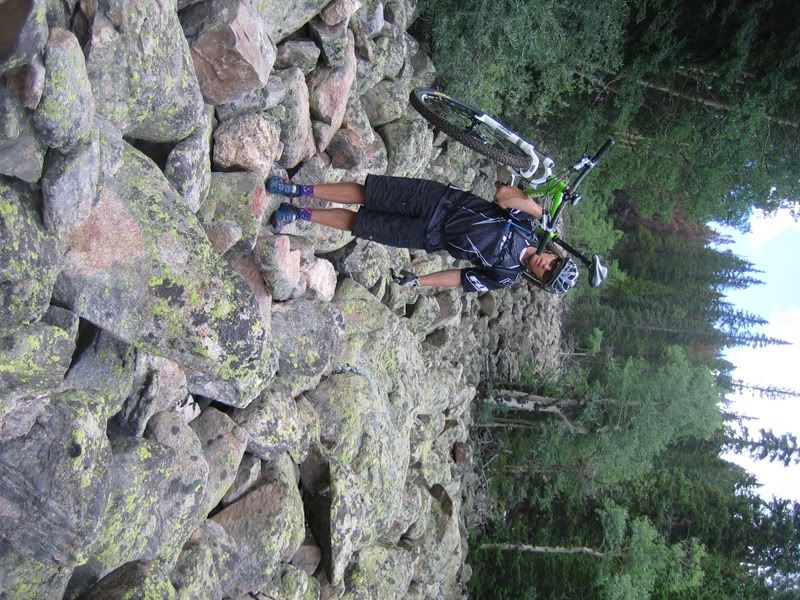 We finally hit the trail head, and the jeep road dropping back to Empire Pass was some of the most fun I've had in a long time…Loose rocks, big water bars, fast flowing sections…Then we hit the last bit of singletrack down Empire Pass and we were back at the cars in about 7 hours.
As a sidenote, I fell more times on this ride (all over the bars because of getting the front tire stuck in a hole) than I have all season. I knew when I could take risks and when I couldn't so I didn't have any nasty falls. The worst fall was in a mud hole when it ate my front tire first and then I smelled bad for the rest of the day.