July 18, 2009
Solitude or companionship. Both can bring joy to our lives. In the past, I've done the majority of my big rides solo, but this time I had an opportunity to ride it with other like-minded mountain bike junkies. I relished their company.
Although the physical path my be the same, a solo adventure creates vastly different memories from a journey with friends. Teamwork and comraderie don't exist on solo adventures. These aspects of riding were missing from many of my previous adventures.
I rode out of Empire by myself at 7am. I rode Hwy 40 and Jones Pass Rd with the conviction that I could make it this week without stopping. Besides having to check my front quick release near Empire, I was able to accomplish that goal. I made it to the top of Jones in 2:30 with less than a minute of stop time (yeah!)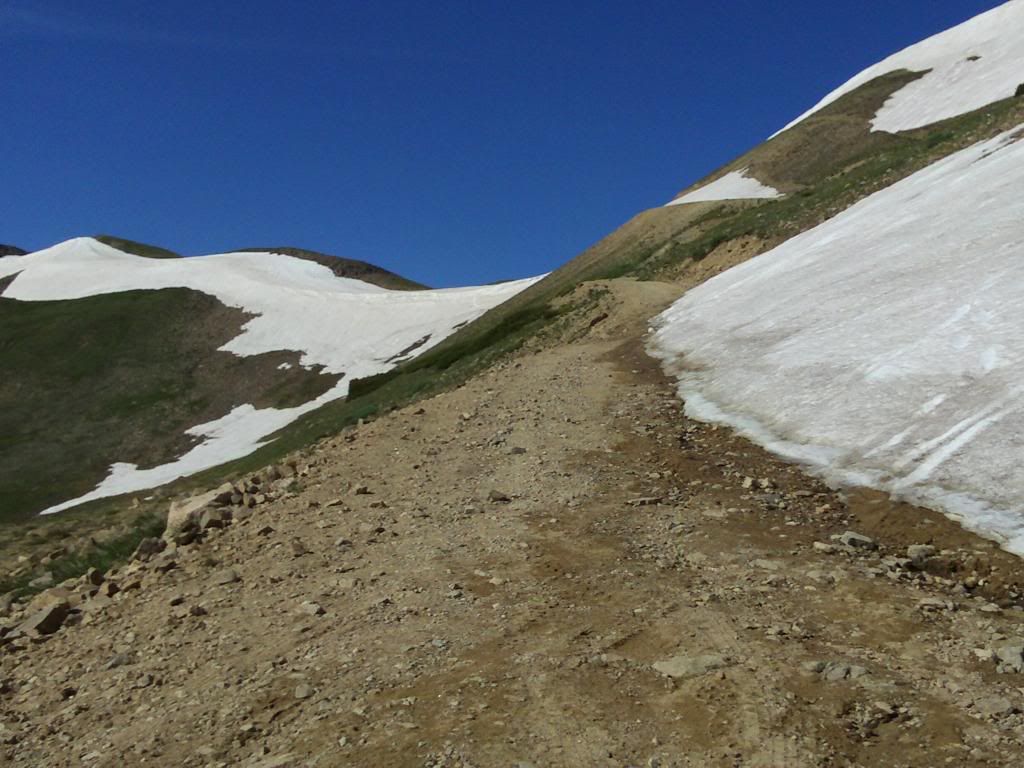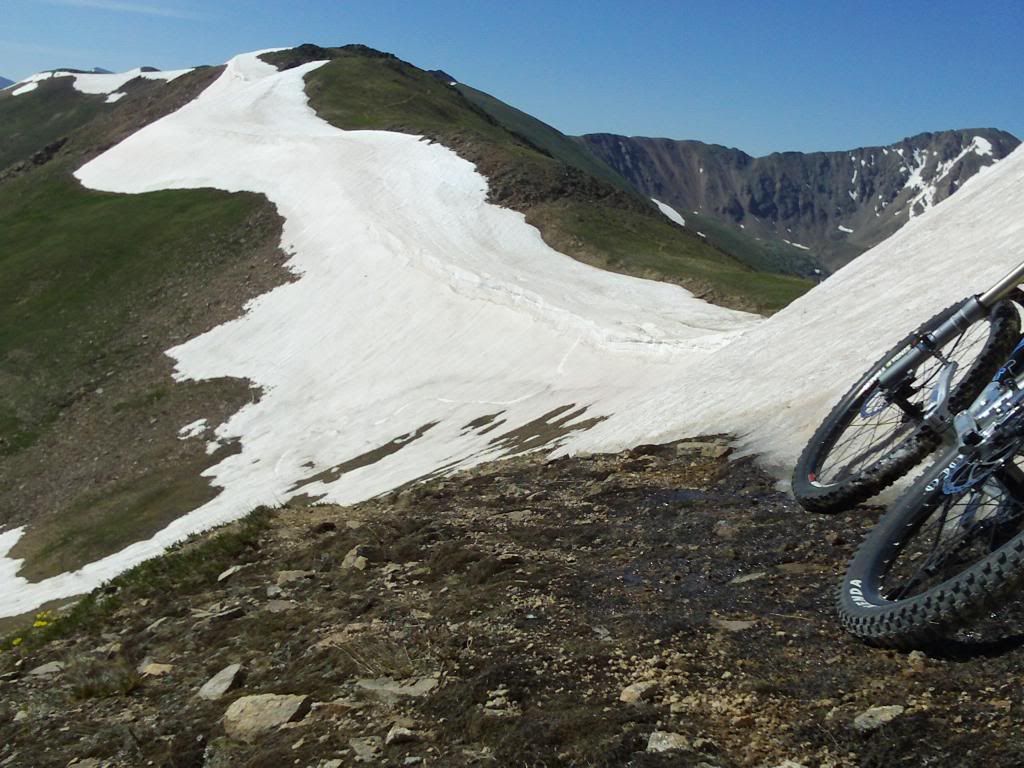 Just as I was about to climb up the last pitch of snow to crest the cornice, I saw three bikers coming up the road. I thought it may be the group of guys I'd been emailing over the past week about doing this loop together (
MGE
, Bad Andy, and
Lubes
). I figured I somehow got the start time wrong. I was elated to see them because the thought of riding Bard Ck solo just gives me the chills. There's something about that trail that just freaks me out. I don't feel comfortable riding it solo (but I would if I couldn't find others to ride it with me).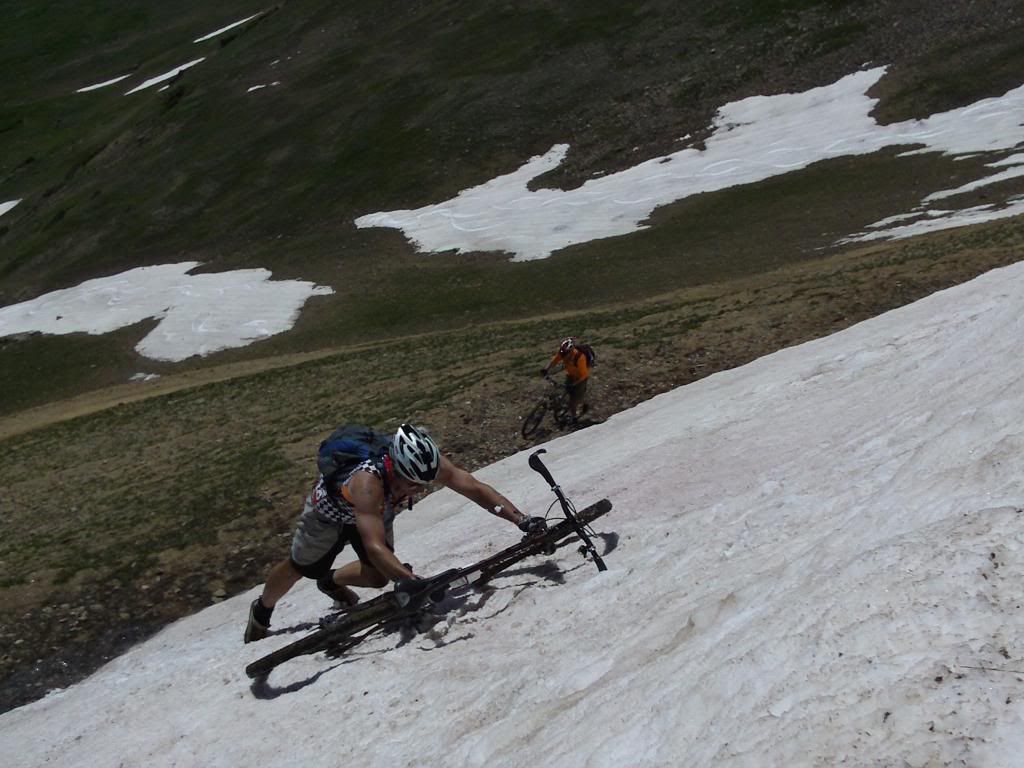 Once on top of Jones Pass, the fun began. I was able to ride more of it this time than last week.
The wind was pretty strong out of the WNW and every time we hit that aspect along the continental divide, trying to stay on the trail got harder. It would have been a great day to fly my RC glider atop that ridge. A few of my flying buddies were headed over to McClellan Mtn that day and they asked if I was coming too, but biking has been at the top of my list the last few weeks. Additionally, other flying buddies were asking if I was going to compete in the LoveAir precision aerobatics competition that weekend too...but biking takes top billing this time of year.
Coming down off the divide into Woods Gulch was as fun as ever...except for my flat...It was a good thing that I went back for my tool bag after initially leaving it behind when I left the house this morning.
Before we hit Herman Gulch, we spotted another rider coming down the trail. It turns out that it was someone else from MTBR. We hit the crowded Herman Gulch trail as a group to try to minimize conflict on the trail. All of the hikers were courteous as we passed them on the way down. Lubes was right beside me when he inconceivably propelled his bike on top of a log bridge but for some reason he couldn't ride it out and had to abandon the attempt. He ended up breaking his front brake lever so I thought his day was over...But I was wrong...He was able to rig it and ride the rest of the day.
Sidenote: I took my cousins from Virginia up Herman Gulch about a month ago (that was my first time up Herman Gulch) and they really enjoyed it. Afterwards, he couldn't remember the name of the trail and kept calling it 'Homer's Gap'. It made me laugh and for some reason, the name just seems to fit.
We stopped and rested at the base of Homer's Gap before tackling the next uphill (Watrous Gulch). I was able to ride more than I expected up Watrous and when we reached the Bard Ck Trail, we stopped and filtered water before continuing to climb (now even steeper).
The Bard Ck Trail was more difficult this year compared to last year. I think it was because of all the miles we had already put in at altitude. In any case, I walked more this year than last year (but I didn't go over the bars at all on this ride). We made slow but steady progress as we contoured around the mountain. Everyone was feeling the miles of very difficult terrain by the time we turned the corner into the last basin before Bard Creek. As soon as we hit a defined trail in Bard Ck drainage, Lubes took the lead with determination. Within what seemed like minutes, we were back at the car.
Overall Stats:
37 miles
10,000 ft of climbing
13:36 total time
4:43 stopped time
4.2 mph average speed
37 mph max speed