No, I didn't ride the sanctioned
Copper Triangle
. In fact, I didn't even know it was going on until I pulled off I-70 at Copper only to see a cop sitting at the intersection and the outer parking lots COMPLETELY FULL!!! I asked a couple of guys working the parking lot what was going on and then I asked them about the trails and they replied, "Oh, you won't see anyone up there today." Although I didn't quite believe them, I was at least relieved to find out that there wasn't a race on the trails...But the
CTR racers
had been through here earlier in the week and it was because of watching the
blue dots
that I got the urge to ride what I call the off-road copper triangle (although it's really more of a rectangle than a triangle). Anyways, it had been since 2005 that I had ridden this route and on that trip I had my wife meet us at Camp Hale with food and water. I remember it being difficult for me at the time and I really needed the resupply of food from my wife. I remember we had a rough time climbing Resolution Creek Road in 2005 and we had lightning striking around us at the top that made us cower under some trees until the storm passed. I broke one of my wisdom teeth that day requiring me to get it pulled later the next week.
This trip was a solo endeavor with no support. Once I got out of the center of Copper and onto the trail, I was able to enjoy some solitude.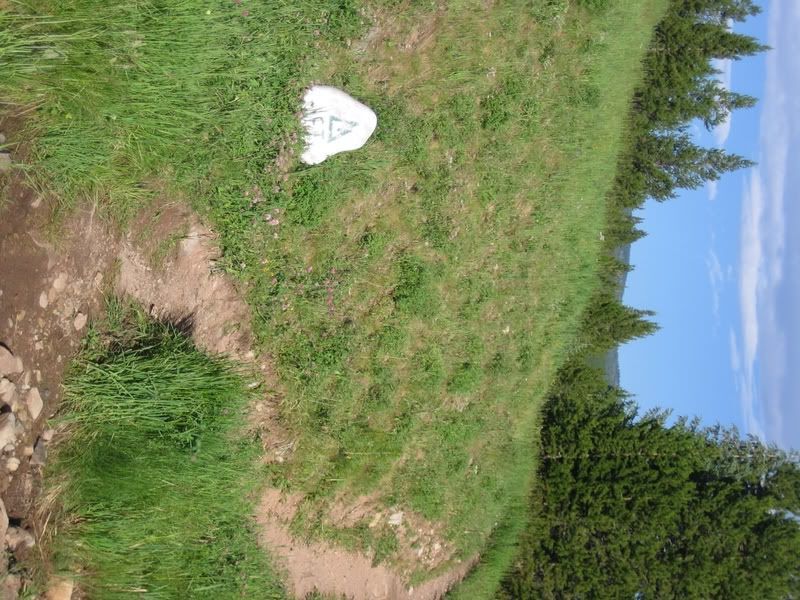 Climbing to Guller Gulch was not as difficult as I remembered it being, plus it went by rather quickly. Although I took my MP3 player, I didn't turn it on at the start. I wanted to ride without it for a change but told myself that I could listen after I reached Searle Pass. Instead, I replayed portions of songs in my head...It's funny how you sometimes have complete control over what songs you replay, while at other times you have no control...Today I had control...
I stopped and talked with a few hikers coming down from spending the night at Jenny's Cabin. I also ran into a family that was thru-hiking the CT (they had planned on taking 7-weeks to finish). It wasn't too long and I was at Searle Pass. When I stopped I noticed an that one of the wings on my new Crank Bros eggbeater pedals was cracked through and twisted. No wonder it sometimes felt sloppy on the climb! Well, there was nothing I could do about it now so I didn't fret over it. I ate a Snickers Bar, refilled my water bottle with Gatorade, and talked with the local fauna.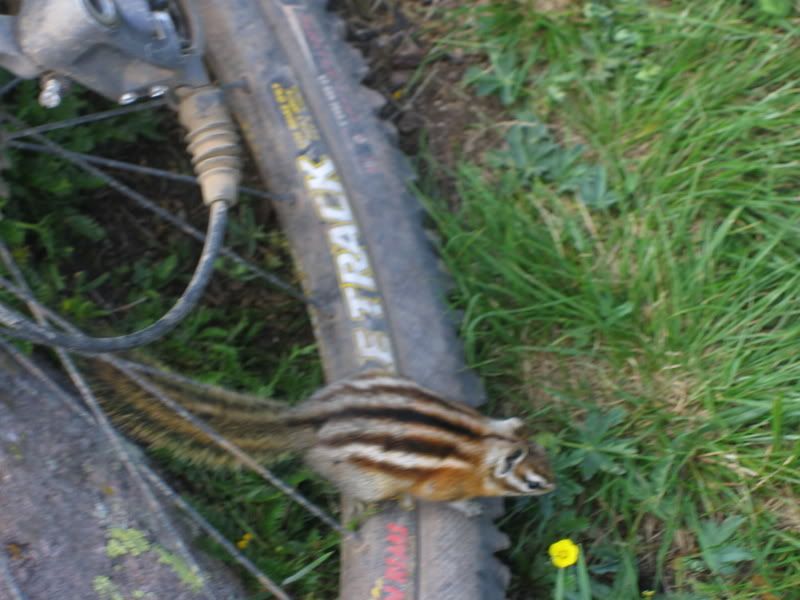 Then it was off to Kokomo Pass. I really love this section of trail above treeline. As I crossed the alpine tundra, I wondered if the tracks left in the few muddy sections were from the CTRers.
The wildflowers coming down Kokomo Pass were really spectacular. This is such a fun descent!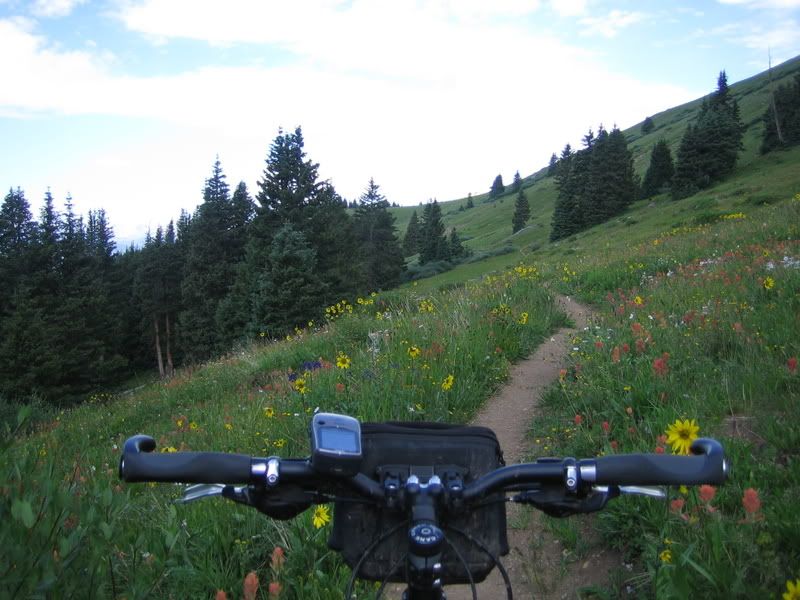 When I got to the bottom, I went to shift gears only to have my chain get stuck between the 2nd and 3rd chain rings...Great...I thought I was going to be stuck in Camp Hale. I had lost 2 of the 4 chain ring bolts but luckily I was able to move them opposite each other so I could complete the ride. I also realized that the broken wing had fallen off and now the opposite one was cracked and ready to fall off! I continued on down the CT along the road and spooked a coyote who ran alongside the trail through the sagebrush at almost the same speed as me riding. It was cool to see him cruising along next to me for about 100 yards.
After leaving the CT, I cruised down the road and ate a few crackers/PB. It was a short ride to reach Resolution Peak Road. Then 2500ft up to the pass. I felt really good during the climb and only had to stop once or twice for a couple of seconds to refill my water bottle, grap some more crackers, and wait for jeeps or ATVs to pass.
It was like deja vu when I neared the top. Dark clouds started rolling in and then there was thunder just to the north. I had about 500 ft to get to the top so I stepped on it a little harder knowing I was starting to dig a hole but it would soon be over and I wouldn't have to wait out the storm. I quickly made it over the top (through a herd of sheep...but no sheep dog?) and started dropping into Wilder Gulch. It was packed with hikers which really slowed the descent and then I saw my first mountain bikers of the day less than a mile from the bike path.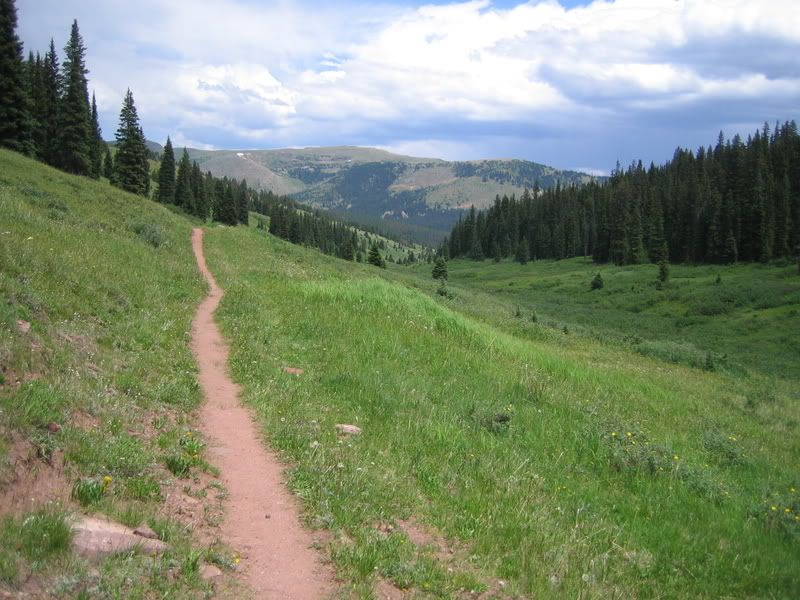 After I reached the bike path, the Copper Triangle riders were everywhere. I came around one of the first switchbacks to find an ambulance blocking the trail. I guess someone went down and they had him strapped on a backboard. I was really surprised at how slow alot of these riders were going. It seemed like I was passing them all. As I neared the village, the race volunteers were directing all the riders towards the center of the village--and I guess they all assumed I just lost my number so I was grouped in with the rest of the riders. It was interesting to finish off the ride by going through the start/finish line, having strangers clap and say good job to me even though they had no idea of where I went.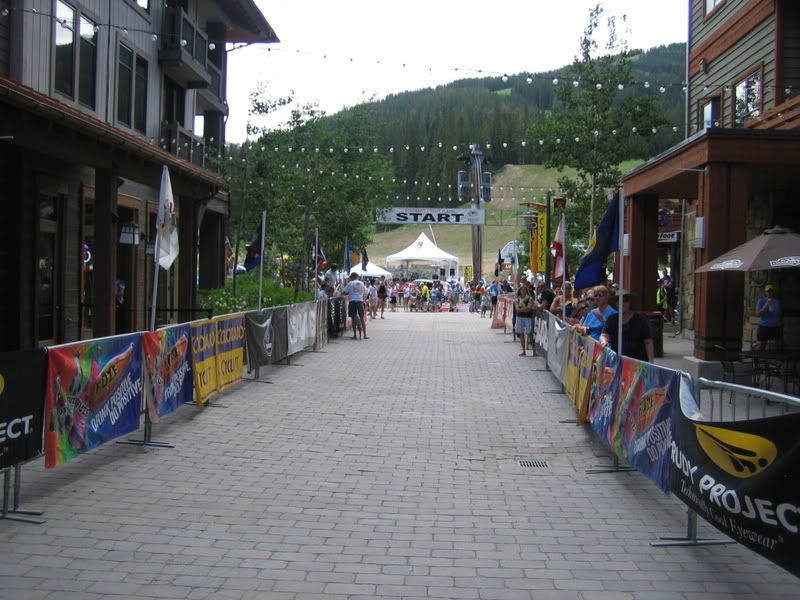 Stats:
(I'll post them up later)
PS...
This was the first trip with the Ergon grips I got for my birthday and I really LOVED THEM!!!